Press Release & Industry News
Construction, Power & Mining Myanmar 2017 – Driven the industries growth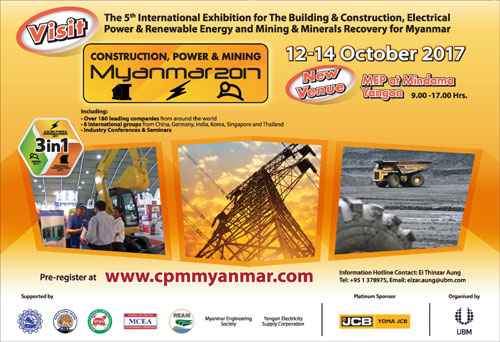 Construction, Power & Mining Myanmar (CPMM) 2017 opens today for its 5th successful edition of the international trade exhibition for the Building & Construction, Electrical Power & Renewable Energy and Mining & Minerals Recovery industries for Myanmar.The show will run from Thursday 12th to Saturday 14th October, NEW hall, MEP at Mindama, Yangon.
Myanmar now has the fastest-growing economy in ASEAN, and is seen as a source of regional strength and a destination of opportunity. Further liberalisation is planned, international investment is expected to remain strong and the domestic economy is becoming increasingly efficient.
Three major sectors that are considered important and attracted most investors are construction industry, energy industry and mining industry. The construction industry is set to become a major growth driver of Myanmar's economy. Residential real estatewill remain the chief engine of growth, though a large infrastructure deficit and rising congestion in Yangon will also contribute to more construction activity.With the infrastructure and industrial demand rapidly expanding, the energy market in Myanmar looks promising. The country is in great need of electricity generation capacity, opening ample investment opportunities.Myanmar is endowed with world-class mineral resources, yet many are still waiting to be explored. Therefore, there is a potential for high returns for mineral companies willing to commit to Myanmar.Moreover, the government has put a priority in mineral policy; aiming to boost production and to invite participation in terms of technical know-how and investment from around the world
Construction, Power & Mining Myanmar 2017 includes 3 international trade exhibitions, Building & Construction Myanmar 2017, Electric Power & Renewable Energy Myanmar 2017 and Mining Myanmar 2017. These related industries will be presented together as 3 in 1 international trade exhibition for Myanmar rapidly developing industries.
"This emerging market is opening to the global economy and expected to see strong growth. I would like to welcomed both local and international companies to tap into new markets, launch new machines, products and services, and bring in new business in this alluring country. Such large scale international exhibition like this gives great benefit to Myanmar by increasing economic development, introducing new experience and expertise to improve its local industry, regional competitiveness and people." Said Guest of Honour
Construction, Power & Mining Myanmar 2017 moves to new venue, MEP at Mindama, presenting 130 companies from 16 countries and 6 international pavilion from China, Germany, India, Korea, Singapore and Thailand, new business matching and training events. The show has full support from world famous brand: Yoma JCB as Platinum sponsor.
The line-up of leading companies at the show includes; A&B Films, Aerial, Ar Man, Bangkok Cable, Beumer, Chee Fatt, Cooltech, Daewoo, Daeyang Rollent, Daegun, Deashin Cable, DKSH, Dongnam Petroleum, Dynaset, Exceltec, Everdigm, Fong Chuan Machinery, Friction, Fujian Xinda, Hansa Flex, Hankwang Electric, Hunan Topworld, IEM, Industrial Concrete, International Electric, JCB, Joongwon, JSV Technical, Komac, Korea Electrical Manufacturers' Cooperative (KEMC), Komy, Leena Engineering, Liang Chi, Luminous, Makitech, Mammut, Mewar, MMD Sizer UK, Minelab, Mobil, Namsung Industries, New Prosperity, Polycab, Pyugil, Rockdril SAG, Selec Control, Shenyang Huayue, Siam Screw, Siam Electric, Strongtech, Thainex, , Thai Premium Pipe, Tellhow Sci-Tech, Toyomi Engineering, Selec Controls, Shanghai Shibang, Sichuan Sunflower, Yoo Chang Hi tech, Young-Hwa Industrial Electric, Weir Minerals, Wuxi Geological and many many more.
"This is the perfect time to invest in Myanmar. The comeback of Construction, Power & Mining Myanmar 2017— the 5th successful edition — proves that Myanmar has a huge potential to excel on the world stage. The show consistently delivers high quality and high numbers of local and international exhibitors. CPMM 2017 is set to be the best platform to explore and discuss business opportunities." said Mr. Fraser Hawkes, General Manager, UBM Myanmar
The activities at Construction, Power & Mining Myanmar 2017 include"Dialogue for Quality Infrastructure – Building Asia's Future" seminar on 12th October organized by The Government of Japan. The objective of this gathering is to stress to Myanmar stakeholders that high quality infrastructure is vital to realize economic growth and introduce how Japan can assist. Also taking place are various company seminars and product launches, including Yoma JCB on 12th-14th October.
Construction, Power & Mining Myanmar 2017 is organised by UBM Myanmar and supported by leading industry associations including The Union of Myanmar Federation of Chamber of Commerce (UMFCCI), Myanmar Industries Association (MIA), Myanmar Federation of Mining Association (MFMA), Myanmar Construction Entrepreneurs Association (MCEA), Myanmar Engineering Society (MES), Renewable Energy Association of Myanmar (REAM), Yangon Electricity Supply Corporation (YESC) and strongly acknowledged by the Ministry of Commerce , Ministry of Construction, Ministry of Electric Power and Ministry of Resources and Environmental Conservation.
Construction, Power & Mining Myanmar 2017 is a "must-visit" event for industry professionals from building & construction, electric power & renewable energy and mining industry. The exhibition is free-to-attend for trade professional visitors.
To visit Construction, Power & Mining Myanmar 2017 please come to MEP at Mindama and register on-site.
For more information, please contact:
UBM BES
Contact PR Executive: Ms. Wantita Porntanawong (Bow)
Tel.: +662 615-1255 ext. 123
Email: [email protected]
Information Matrix
Contact: Nyein Nyein Aye
Tel.: +95 1 513 515 – 519
Email: [email protected]
Construction, Power & Mining Myanmar 2017
Date: 12th – 14th October 2017
Opening Hours: 9am – 5pm
Venue: MEP at Mindama, Yangon
Websites:
www.buildingmyanmar.com/ www.electricmyanmar.com/ www.miningmyanmar.com/ www.cpmmyanmar.com
Facebook:https://www.facebook.com/CPMMyanmar