Press Release & Industry News
Construction, Power & Mining Myanmar 2017 – Gathering leading players for 3 essential industries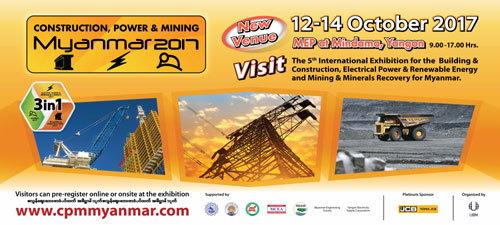 Construction, Power & Mining Myanmar 2017 is the 5th international trade exhibition for the Building & Construction, Electrical Power & Renewable Energy and Mining & Minerals Recovery for Myanmar.The show will take place for its 5th successful edition, 12th to 14th October, NEW hall, MEP at Mindama, Yangon.
A new era of reform and renewal has driven Myanmar to be the fastest-growing economy in ASEAN and an inviting destination for business opportunities. Three major sectors that are considered important and attracted most investors are construction industry, energy industry and mining industry. The construction sector, especially infrastructure construction and development, can boost the economic growth and support this rapidly expanding country. On the other hand, the demand for power generator equipment along with power management and distribution system is on the rise due to the authorities plan to provide electricity to all areas within 15 years. Lastly, mining is the third largest recipient of foreign direct investment. Since Myanmar has diverse and largely untapped geological resources, mining is a significant element of the country's economic development in the decades to come.
"Myanmar today is a country undergoing rapid transition with much hope and potential. The people and leaders have strong determination and cooperation, driving Myanmar to gain recognition at the global political and economic table. This promising change pushes forwards new projects and business across the construction, power and mining industries. Construction, Power & Mining Myanmar 2017 helps add value to Myanmar's economy and industries by bringing an international industry focused trade exhibition to Myanmar. It is a "MUST-VISIT" event for the industries" said Mr. Fraser Hawkes, General Manager, UBM Myanmar
Construction, Power & Mining Myanmar 2016 includes 3 international trade exhibitions, Building & Construction Myanmar 2016, Electric Power & Renewable Energy Myanmar 2016 and Mining Myanmar 2016. These related industries will be presented together as 3 in 1 international trade exhibition for Myanmar rapidly developing industries.
Construction, Power & Mining Myanmar 2017 moves to new venue, MEP at Mindama, will present over 180 companies from 16 countries and 6 international pavilion from China, Germany, India, Korea, Singapore and Thailand new business matching, training event. The show has full support from the world famous brand: Yoma JCB as Platinum sponsor.
The line-up of leading companies at the show includes; A&B Films, Aerial, Ar Man, Bangkok Cable, Beumer, Chee Fatt, Cooltech, Daewoo, Daeyang Rollent, Daegun, Deashin Cable, DKSH, Dongnam Petroleum, Dynaset, Exceltec, Everdigm, Fong Chuan Machinery, Friction, Fujian Xinda, Hansa Flex, Hankwang Electric, Hunan Topworld, IEM, Industrial Concrete, International Electric, JCB, Joongwon, JSV Technical, Komac, Korea Electrical Manufacturers' Cooperative (KEMC), Komy, Leena Engineering, Liang Chi, Luminous, Makitech, Mammut, Mewar, MMD Sizer UK, Minelab, Mobil, Namsung Industries, New Prosperity, Polycab, Pyugil, Rockdril SAG, Selec Control, Shenyang Huayue, Siam Screw, Siam Electric, Strongtech, Thainex, , Thai Premium Pipe, Tellhow Sci-Tech, Toyomi Engineering, Selec Controls, Shanghai Shibang, Sichuan Sunflower, Yoo Chang Hi tech, Young-Hwa Industrial Electric, Weir Minerals, Wuxi Geological and many many more.
Construction, Power & Mining Myanmar 2017 is organised by UBM Myanmar and supported by leading industry associations including The Union of Myanmar Federation of Chamber of Commerce (UMFCCI), Myanmar Industries Association (MIA), Myanmar Federation of Mining Association (MFMA), Myanmar Construction Entrepreneurs Association (MCEA), Myanmar Engineering Society (MES), Renewable Energy Association of Myanmar (REAM), Yangon Electricity Supply Board (YESB) and strongly acknowledged by the Ministry of Commerce , Ministry of Construction, Ministry of Electric Power and Ministry of Resources and Environmental Conservation.
Construction, Power & Mining Myanmar 2017 is a "must-visit" event for industry professionals from building & construction, electric power & renewable energy and mining industry. The exhibition is free-to-attend for trade professional visitors.
Visitors can register in 2 ways:
1. Pre-Register Online
By Pre-Registering Online visitors can benefit by receiving the latest exhibition information in advance to help plan their visit, they will receive a free copy of the exhibition show directory, and they can save time onsite by avoiding the registration queues because they only need to pick-up their badges. To Pre-Register Online please go to http://www.cpmmyanmar.com/cpmm/2017/en/visit_regist.asp
2. Onsite-Registration at the Exhibition
Visitors can register onsite directly at the exhibition during the show days, Thursday 12th October to Saturday 14th October, opening hours 9am to 5pm everyday.
For more information, please contact:
UBM BES
Contact PR Executive: Ms. Wantita Porntanawong (Bow)
Tel.: +662 615-1255 ext. 123
Email: [email protected]
Information Matrix
Contact: Nyein Nyein Aye
Tel.: +95 1 513 515 — 519
Email: [email protected]
Construction, Power & Mining Myanmar 2017
Date: 12th — 14th October 2017
Opening Hours: 9am — 5pm
Venue: MEP at Mindama, Yangon
Websites:
www.buildingmyanmar.com/ www.electricmyanmar.com/ www.miningmyanmar.com/ www.cpmmyanmar.com
Facebook:https://www.facebook.com/CPMMyanmar